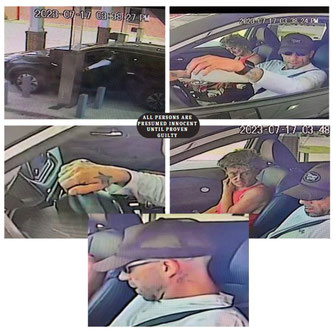 Lake Charles, LA –
On July 18, Calcasieu Parish Sheriff's Office Financial Crimes detectives received a report in reference to a forgery.
During the initial investigation detectives learned the unknown suspects deposited multiple stolen and forged checks at several banking locations throughout Calcasieu Parish.  It was also discovered DeQuincy Police Department was made aware of the same incident at a bank in DeQuincy, at which time they located the suspects' vehicle.  The suspects led DQPD officers on a pursuit, that was ultimately terminated in Texas due to unsafe conditions. 
CPSO detectives have attempted to identify the suspects but have been unsuccessful.  They are asking anyone who can identify the individuals or car seen in these photos, or anyone with information related to this case to contact CPSO at (337) 491-3605.
CPSO Detective Shelli Fontenot is the lead investigator on this case. 
An arrest is an indication that probable cause exists to believe the subject was involved in the offense alleged.   A person is innocent until proven guilty beyond a reasonable doubt.