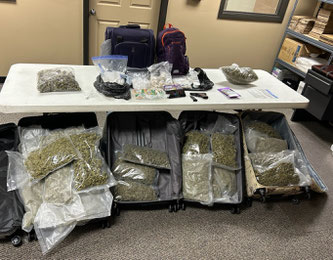 C.A.T. TEAM EXECUTES SEARCH WARRANTS RESULTING IN NARCOTICS ARREST
Lake Charles, LA –
On September 26, detectives with the Combined Anti-Drug Task Force (C.A.T. Team) executed two search warrants as a result of an ongoing investigation involving Norvell K. Harris, 45, Lake Charles, distributing illegal narcotics in Calcasieu Parish.       
During the investigation detectives learned Harris was utilizing a storage unit on Sharon Lane in Lake Charles to store bulk narcotics.  Detectives secured a search warrant at the location and upon execution they seized approximately 2.5 pounds of compressed cocaine, 30 pounds of marijuana, 1.3 pounds of multi-colored MDMA tablets, 1.5 pounds of heroin, 12 grams of THC chocolate bars, 2,500 milligrams of THC gummies, 1 handgun, and drug paraphernalia items. 
With the assistance of the Calcasieu Parish ACT-Team, detectives also executed a search warrant at the home of Harris, on Lake Fairway Drive in Lake Charles.  Upon execution of the warrant detectives seized 2 pounds of marijuana, 33 multi-colored MDMA tablets, 1.11 grams of blue MDMA powder, 3 mushroom chocolate bars, 18.48 grams of THC edibles, 3 boxes of ammunition, 1 handgun magazine, along with drug paraphernalia items.  The total estimated street value of all illegal narcotics seized is approximately $86,000. 
Harris was arrested and booked into the Calcasieu Correctional Center and charged with 2 counts of possession of CDS I with intent to distribute; possession of CDS II with intent to distribute; illegal possession of a firearm in the presence of CDS; possession of a firearm by a convicted felon; and possession of drug paraphernalia.  Judge Ron Ware set his bond at $315,000. 
Harris was previously investigated in 2014 during a joint investigation involving C.A.T. detectives and the Louisiana State Police Narcotics, where he was later convicted in federal court for conspiracy to distribute controlled substances.  Harris also has a detainer for the United States Marshal's Service, as he is on federal probation until 2027. 
The Combined Anti-Drug Task Force is a collaborative effort, comprised of law enforcement officials from local, state and federal agencies, aimed at ceasing the trafficking of illegal substances in Calcasieu Parish. 
 An arrest is an indication that probable cause exists to believe the subject was involved in the offense alleged.   A person is innocent until proven guilty beyond a reasonable