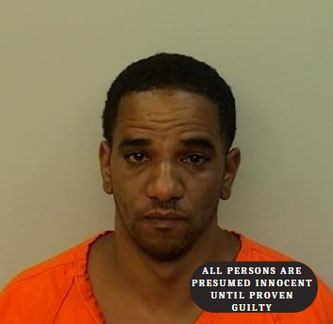 On September 7, detectives with the Combined Anti-Drug Task Force (C.A.T. Team)initiated a joint narcotics investigation with the Lake Charles Field Office of Homeland Security Investigations (HSI) in reference to possible commercial grade pill press machines, capable of producing pressed fentanyl pills, in the area.
On September 11, detectives were conducting surveillance at 621 Beam Street in Lake Charles in reference to the investigation.  While conducting their surveillance they observed Bryan J. Henry, 44, Lake Charles, arrive at the home, where two commercial grade pill presses had been observed.  Henry was later seen leaving the location, at which time detectives obtained a search warrant for the home in reference to the narcotics investigation.  With the assistance of the CPSO ACT-Team, detectives executed the warrant and seized 2 pill press machines, multiple large plastic containers containing approximately 32 pounds of synthetic marijuana, 1 fentanyl tablet, and 1 MDMA tablet, as well as components of a clandestine lab to produce synthetic marijuana, and 1 handgun. 
During the execution of the search warrant, detectives were simultaneously surveilling Henry, when he was observed at 1011 N. Prater Street in Lake Charles.  Upon Henry leaving the residence detectives attempted to conduct a traffic stop, at which time he fled, traveling westbound on I-210 near Nelson Road in Lake Charles.  While traveling over the I-210 bridge, Henry began throwing items out the window, believed to be illegal narcotics and drug paraphernalia.  Henry continued to flee from detectives, until he lost control and crashed into an 18-wheeler on I-10 westbound, near mile marker 9 in Vinton.     
During further investigation, after a probable cause search of Henry's truck, detectives seized multiple large plastic containers with approximately 42 pounds of synthetic marijuana, bulk packages of plastic zip lock style bags used to package synthetic marijuana, 1 multi-function automatic weighing and filling machine used to weigh and package synthetic marijuana, and 2 plastic buckets with an unknown white powdery substance.  As a result of the items seized thus far in the investigation, detectives obtained a search warrant at the residence where Henry was seen leaving on N. Prater Street.  During the execution of the search warrant, detectives seized 32 grams of synthetic marijuana as well as evidence of a clandestine lab to produce synthetic marijuana.    
The total street value of the seized narcotics is approximately $123,000.  The total street value of the clandestine lab components is approximately $14,000. 
            Henry was taken into custody and transported to a local hospital and treated for minor injuries sustained from the crash, then booked into the Calcasieu Correctional Center and charged with aggravated flight from an officer; obstruction of justice; possession of CDS I with intent to distribute; creation and operation of a clandestine lab; and a traffic violation.  Detectives also learned Henry is currently on parole. 
The investigation is continuing and more arrests and charges are likely. 
The Combined Anti-Drug Task Force is a collaborative effort, comprised of law enforcement officials from local, state and federal agencies, aimed at ceasing the trafficking of illegal substances in Calcasieu Parish. 
An arrest is an indication that probable cause exists to believe the subject was involved in the offense alleged.   A person is innocent until proven guilty beyond a reasonable doubt.