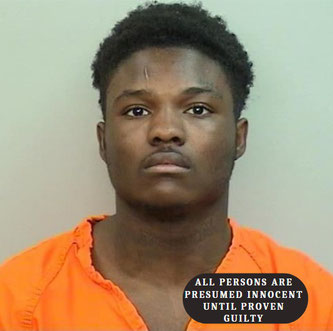 Lake Charles, LA –
On May 24 at approximately 7:30 p.m. Calcasieu Parish Sheriff's Office deputies were dispatched to the 2400 block of 4th Avenue, near a park, in Lake Charles in reference to a shooting, where the victim, Markell B. Jackson, 18, Lake Charles, was later pronounced deceased.  During the investigation CPSO detectives issued a warrant for Demontoriyuana E. Charles, 18, Lake Charles, signed by Judge Ronald Ware.
Early this morning, May 26, CPSO Violent Crimes detectives with the assistance of the U.S. Marshals Service located Charles, after he agreed to surrender to authorities in Lafayette.  He was arrested and transported to the Calcasieu Correctional Center and booked in on his warrant.  He is charged with 2nd degree murder; aggravated criminal damage to property; and illegal use of a weapon.  His bond is set at $680,000.        
The investigation is continuing and more arrests are likely.  Calcasieu Parish Sheriff's Office Violent Crimes detectives are asking for anyone who may have any information relating to this case to please call CPSO at 491-3605; you can also submit a tip and upload photos and videos anonymously by using the CloseWatch Calcasieu app. 
CPSO Detective Michelle Robinson is the lead investigator on this case.  
An arrest is an indication that probable cause exists to believe the subject was involved in the offense alleged.   A person is innocent until proven guilty beyond a reasonable doubt.