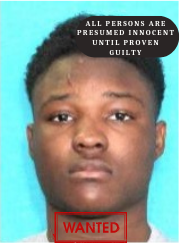 Lake Charles, LA –
On May 24 at approximately 7:30 p.m. Calcasieu Parish Sheriff's Office deputies were dispatched to the 2400 block of 4th Avenue, near a park, in Lake Charles in reference to shots fired.  The complainant advised CPSO Communications deputies several shots were heard and they observed a white car fleeing the area. 
Detectives learned the victim, Markell B. Jackson, 18, Lake Charles, had been transported to a local hospital suffering from a gunshot wound.  Jackson was later pronounced deceased. 
Detectives reviewed surveillance footage in the area where the shooting occurred and observed several possible people of interest.  Earlier this morning, after further investigation, CPSO detectives issued a warrant for Demontoriyuana Charles, 18, Lake Charles, signed by Judge Ronald Ware, charging him with 2nd degree murder; aggravated criminal damage to property; and illegal use of a weapon.  His bond is set at $680,000.     
CPSO Detectives are currently attempting to locate Charles.  If anyone has any information on his whereabouts they are asked to call CPSO at 491-3605.  Anyone who is found to be assisting or harboring him will be charged accordingly. 
The investigation is continuing and more arrests are likely.  There is no further information to release at this time.   
CPSO Detective Michelle Robinson is the lead investigator on this case.  
An arrest is an indication that probable cause exists to believe the subject was involved in the offense alleged.   A person is innocent until proven guilty beyond a reasonable doubt.