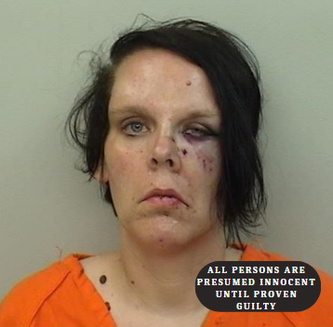 Lake Charles, LA –
On Friday, March 31, at approximately 4:30 p.m. Calcasieu Parish Sheriff's Office deputies were dispatched to a residence in DeQuincy in reference to a domestic disturbance involving a suspect with a dangerous weapon. 
When deputies arrived officers with the DeQuincy Police Department, who arrived first on scene, had the suspect, Elizabeth D. Hext, 37, DeQuincy, detained.  The investigation revealed Hext struck a juvenile victim at the residence as well as two elderly victims.  She also struck another man inside the home multiple times and threw a knife at him.  Deputies observed physical injuries on all victims, consistent with their statements. 
During the investigation, Hext continued to physically resist DQPD officers and CPSO deputies causing minor injuries.  She was arrested and transported to a local hospital.  After receiving a medical clearance by hospital personnel, she was booked into the Calcasieu Correctional Center and charged with domestic abuse intentional use of force with a dangerous weapon; domestic abuse; aggravated battery; simple battery of the infirm; and 3 counts of resisting a police officer with force or violence.  She is being held without bond for the domestic charges and a $20,000 bond for the remaining charges, set by Judge Robert Wyatt. 
CPSO Detective Kimberly Curran is the lead investigator on this case.  
An arrest is an indication that probable cause exists to believe the subject was involved in the offense alleged.   A person is innocent until proven guilty beyond a reasonable doubt.