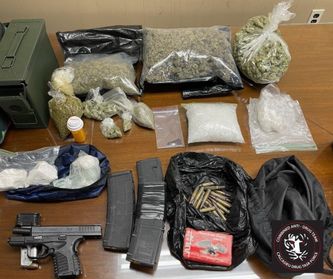 Lake Charles, LA –
On January 5, detectives with the Combined Anti-Drug Task Force (C.A.T. Team) were conducting a narcotics investigation at 2304 Ernest Street in Lake Charles.  Upon making contact with the occupants inside the home, detectives smelled the odor of marijuana emitting from inside the residence.       
Detectives obtained a search warrant and upon execution they seized 2.6 pounds of marijuana, 1.02 pounds of crystal methamphetamines, 128 grams of powder cocaine, 8.45 grams of fentanyl, 8 oxycodone pills, 1 alprazolam, and a firearm.  The total estimated street value of the illegal narcotics seized is approximately $20,000. 
Three suspects located inside the home, Kali A. Warren, 30, Corey J. Boutte, 20, and Jerrod A. Wilson, 53, all of Lake Charles, were arrested and booked into the Calcasieu Correctional Center.  They are charged with possession of CDS I with intent to distribute; 3 counts of possession of CDS II with intent to distribute; illegal carrying of a weapon in the presence of CDS; and possession of drug paraphernalia.  Wilson is additionally charged with possession of a firearm by a convicted felon.  Their bonds have not yet been set.    
The Combined Anti-Drug Task Force is a collaborative effort, comprised of law enforcement officials from local, state and federal agencies, aimed at ceasing the trafficking of illegal substances in Calcasieu Parish. 
 An arrest is an indication that probable cause exists to believe the subject was involved in the offense alleged.   A person is innocent until proven guilty beyond a reasonable doubt.