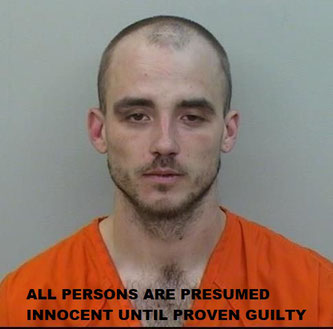 Lake Charles, LA –
Last night, December 5, at approximately 11:00 p.m. Calcasieu Parish Sheriff's Office deputies were dispatched to a home on Alvin Road in Sulphur in reference to gunshots heard in the area.  Deputies were also informed one of the homeowners in the area observed damage to his home consistent with a firearm projectile. 
When deputies arrived, they located a bullet hole in the victim's bedroom window.  They also observed damage caused from a projectile to the closet door and a dresser in the room.  Evidence at the scene suggested the bullet came from south of the residence.  When deputies began canvassing the area they observed a man, later identified as Jacob W. Jones, 26, Sulphur, exiting his garage.  Deputies also observed a firearm laying on the ground in the garage, in plain view.  Deputies made contact with Jones, and while attempting to detain him for safety reasons he began to resist deputies.  Deputies were able to detain Jones and place him in the back of a CPSO transport van, at which time he advised deputies he fired several rounds outside of his residence while trying to protect his property from an unknown person in his backyard.  While in the van Jones was able to slip off his handcuffs.  When deputies attempted to handcuffed Jones again, he continued to physically resist deputies.
During further investigation, detectives spoke with a witness who advised they heard a single gunshot followed by a burst of gunshots.  Detectives obtained a search warrant for Jones' residence, signed by Judge Tony Fazzio.  While executing the warrant detectives located a a .300 caliber semi-automatic AR15 style rifle inside the garage as well as several spent .300 caliber shell casings outside his residence. 
Jones was arrested and booked into the Calcasieu Correctional Center and charged with illegal discharge of a firearm; aggravated damage to property; simple escape; and resisting an officer.  Judge Tony Fazzio set his bond at $102,500.
CPSO Deputy Sr. Cpl. Courtney Bertin is the arresting deputy on this case.  CPSO Detective Christopher Scharp is the lead investigator on this case. 
An arrest is an indication that probable cause exists to believe the subject was involved in the offense alleged.   A person is innocent until proven guilty beyond a reasonable doubt.