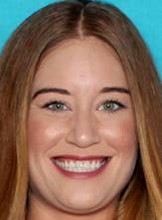 **UPDATE (2): 
Sheriff Tony Mancuso would like to thank Chief Wall and the Sulphur Police Department with their assistance today in the recovery of the vehicle belonging to Stephany Fong. He would also like to thank the Louisiana State Police for their assistance with traffic control during the investigation. 
According to Louisiana law, the law enforcement agency in the municipality where a crash occurred is required to be the investigating agency; therefore, the Sulphur Police Department will be handling the crash investigation. CPSO will continue their investigation regarding the missing person report along with evidence recovery.*
*UPDATE:  Deputies recovered Fong's vehicle in Bayou d'Inde in Sulphur earlier this afternoon, November 21.  Fong was located inside the vehicle, deceased. The coroner's office will determine cause of death. Foul play is not suspected. *
Lake Charles –
The Calcasieu Parish Sheriff's Office is looking for Stephany Fong, 32, Lake Charles, who was reported missing yesterday evening. 
She was last seen shortly after 5:00 a.m. on Saturday, November 19, traveling northbound on Beglis Parkway in Sulphur, north of Cypress Street.  She was last seen driving her vehicle, a white, Toyota RAV4, bearing Louisiana license plate 342DDV.   
The Calcasieu Parish Sheriff's Office is asking the publics assistance in locating Fong.  If anyone sees Fong or her vehicle, or knows of her whereabouts, please contact CPSO at 491-3605.