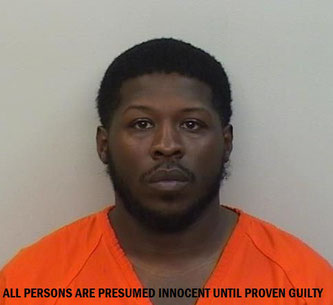 Lake Charles, LA –
Last night at approximately 8:00 p.m. Calcasieu Parish Sheriff's Office deputies were dispatched to a home on Alister Court in Iowa in reference to a call from a homeowner stating he observed several individuals outside his home who appeared to be attempting to steal his car. 
During the initial investigation detectives learned the homeowner, Joshua G. Mouton, 32, Iowa, exited his residence and upon observing the individuals he began shooting at them, firing several rounds.  It was later discovered the individuals on the property were three juveniles who were "teepeeing" the home.  As a result of the gunfire one of the juveniles was struck in the leg, along with the vehicle they arrived at the home in, as well as a baseball cap, worn by the adult driver who drove them to the home.  It was also discovered at least one of the juveniles is an acquaintance of Mouton's children.  Further investigation revealed Mouton is legally prohibited from possessing firearms due to his criminal history. 
Mouton was arrested and booked into the Calcasieu Correctional Center and charged with aggravated battery; aggravated criminal damage to property; 2 counts of aggravated assault with a firearm; 3 counts of illegal possession of a firearm by a convicted felon; illegal use of a weapon.  His bond has not yet been set.
The victim was transported to a local hospital with  non life-threatening injuries. 
CPSO Cpl. Michael Hamorski is the arresting deputy on this case.  CPSO Detective Barrett Savoie is the lead investigator on this case. 
An arrest is an indication that probable cause exists to believe the subject was involved in the offense alleged.   A person is innocent until proven guilty beyond a reasonable doubt.