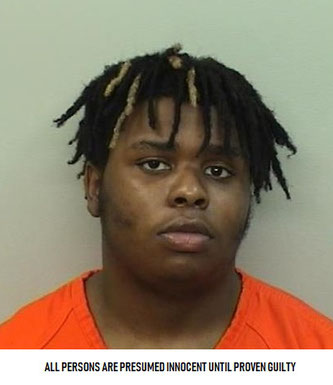 Lake Charles, LA –
Yesterday evening at approximately 5:00 p.m. Calcasieu Parish Sheriff's Office deputies were dispatched to the 3300 block of Opelousas Street in Lake Charles in reference to a possible carjacking.  
While CPSO Communications deputies were on the phone with the victim they were able to get a description of the SUV and put out a BOLO (Be on the Lookout) to other law enforcement agencies in the area. 
A short time later officers with the Lake Charles Police Department observed the SUV traveling on Enterprise Boulevard and initiated a traffic stop, at which time the suspect fled in the SUV and led officers on a brief pursuit.  The suspect crashed the vehicle near Prien Lake Road and 4th Avenue and fled on foot.  CPSO deputies with the assistance of LCPD officers were able to locate the suspect, later identified as Jyron L. Harper, 19, Lake Charles, in the area of 22nd Street and 3rd Avenue, at which time he was taken into custody.  Deputies also located a stolen firearm inside the SUV, which was previously reported stolen through the Lake Charles Police Department. 
During further investigation it was learned the victim met Harper on a social networking app.  The victim picked up Harper earlier that day and traveled to a park on Opelousas Street at which time Harper pointed a handgun at him and stole his SUV. 
Harper was arrested and booked into the Calcasieu Correctional Center and charged with armed robbery; armed robbery use of a firearm; and illegal possession of a stolen firearm.  Judge Tony Fazzio set his bond at $155,000.
CPSO Sr. Cpl. Antonio Hagans is the arresting deputy on this case.  CPSO Detective Lauren Manuel is the lead investigator on this case. 
An arrest is an indication that probable cause exists to believe the subject was involved in the offense alleged.   A person is innocent until proven guilty beyond a reasonable doubt.