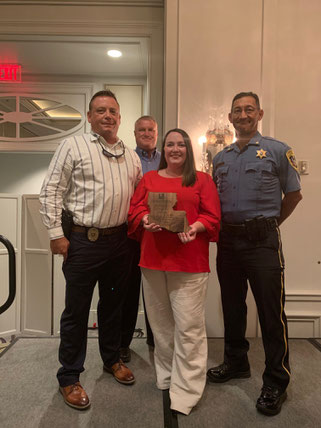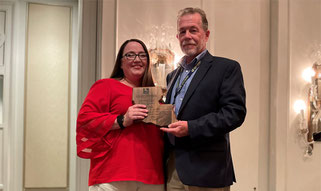 Pictured in photo 1 (front) CPSO Captain Jason Alexander, CPSO Detective Shelli Fontenot, CPSO Commander Nick Fontenot (back) CPSO Lieutenant James Leubner. 
Pictured in photo 2 Garland Prejean of CSE Federal Credit Union presents Detective Michelle "Shelli" Fontenot of Calcasieu Parish Sheriff's Office a 2022 Law Enforcement Distinguished Service Award.
Lake Charles, LA –
Calcasieu Parish Sheriff's Office Financial Crimes Detective Michelle "Shelli" Fontenot was awarded the 2022 Law Enforcement Officer Distinguished Service Award by the Louisiana Bankers Association.   
"Detective Fontenot is a hard-working deputy who is committed to investigating financial crimes for the victims in our parish.  I am so pleased she is being recognized for her hard work and commitment to our community.  Financial crimes are complex and tedious and take a dedicated investigator such as Detective Fontenot.  I am proud to say she works for the Calcasieu Parish Sheriff's Office," stated Sheriff Tony Mancuso.     
Each year the Louisiana Bankers Association recognizes outstanding law enforcement officers who assist banks with the investigation of financial crimes.  Detective Fontenot was one of two recipients to receive the award, which is nominated on by bankers from across the state.