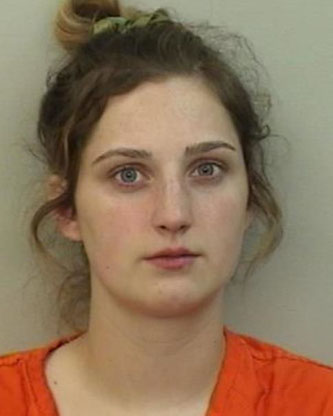 Lake Charles, LA –
On May 17 Calcasieu Parish Sheriff's Office Sex Offender Unit detectives arrested convicted sex offender Sydney K. Pierce, 25, 1800 Khamiel Drive, Lake Charles, after an investigation revealed she was in violation of her sex offender registration requirements.
During the investigation detectives received information from the Lake Charles Police Department in reference to Pierce, who is a convicted felon, being in possession of a firearm in a photograph.  Detectives were also advised Pierce had been using social media.
After further investigation detectives were able to locate a gun in the home where Pierce lives that matched the weapon in the photograph of Pierce.  Detectives also discovered Pierce has numerous social media accounts and failed to notify law enforcement, making her in violation of her sex offender registration requirements.  Pierce also failed to have the required information on her social media accounts regarding her sex offender information. 
She was arrested and booked into the Calcasieu Correctional Center and charged with possession of a firearm by a convicted felon; 4 counts of registration of sex offenders; and 4 counts of notification of sex offenders.  Judge Michael Canaday set her bond at $475,000.
Pierce was convicted of sexual assault of a child in January 2022 in Orange County, Texas. 
CPSO Detective Cory Myers was the lead investigator on this case.
An arrest is an indication that probable cause exists to believe the subject was involved in the offense alleged.   A person is innocent until proven guilty beyond a reasonable doubt.