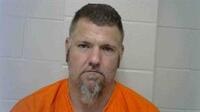 Lake Charles, LA –
On April 20 Calcasieu Parish Sheriff's Office VCIU Detectives received a report in reference to the theft of a catalytic converter, and the attempted theft of another, from two vehicles parked at a business in Westlake. 
During the investigation, with the assistance of the CPSO Real Time Crime Center, detectives were able to identify a possible suspect, Brandon J. Lacour, 37, 21203 Carl Hoppe Road, Iowa.  When detectives attempted to locate Lacour, they learned he had been arrested by the Jeff Davis Parish Sheriff's Office on April 29 for the same crime. 
After further investigation, detectives met with Lacour at the Jeff Davis Parish Jail and during his interview he confirmed he was responsible for the theft.  Lacour, who is currently incarcerated at the Jeff Davis Parish Jail, is being charged with theft $1,000 – $5,000; attempted theft $1,000 - $5,000; and 2 counts of simple criminal damage to property.  Judge Tony Fazzio set his bond at $75,000.  
CPSO VCIU Detective Grant Strenth is the lead investigator on this case. 
An arrest is an indication that probable cause exists to believe the subject was involved in the offense alleged.   A person is innocent until proven guilty beyond a reasonable doubt.