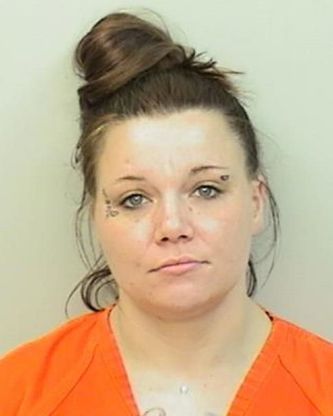 Lake Charles, LA –
On April 25 Calcasieu Parish Sheriff's Office Sex Offender Unit detectives arrested Stoney L. Boudreaux, 33, Lake Charles, after an investigation revealed he failed to comply with his sex offender registration requirements. 
During the investigation detectives arrived at the residence where Boudreaux was possibly living, at which time they made contact with an occupant inside the home.  The woman stated she did not know anyone by the name of Stoney Boudreaux and advised she just rented a room inside the house and was the only one living there.  The woman insisted Boudreaux was not inside the residence and refused to allow detectives inside.  Once detectives advised her a search warrant was obtained for the residence, she confirmed Boudreaux was inside the home. 
After further investigation detectives learned the woman, identified as Stephanie M. Beauchamp, 31, 740 18th Street, Lake Charles, had falsely identified herself and had given detectives a family member's name, date of birth, and social security number when they made initial contact with her.
On April 27 detectives went back to the residence and made contact with Beauchamp at which time she was arrested and booked into the Calcasieu Correctional Center.  Beauchamp, who was also in possession of drug paraphernalia, is charged with harboring or concealing a sex offender; and possession of drug paraphernalia.  Judge David Ritchie set her bond at $101,000.   
CPSO Detective Allison Toups is the lead investigator on this case. 
An arrest is an indication that probable cause exists to believe the subject was involved in the offense alleged.   A person is innocent until proven guilty beyond a reasonable doubt.