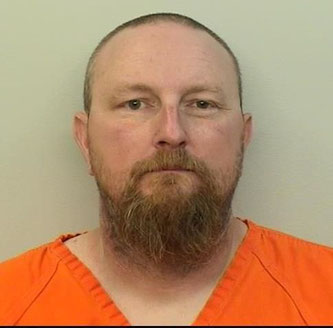 Lake Charles, LA –
On April 21 at approximately 9:00 p.m. a Calcasieu Parish Sheriff's Office deputy was conducting routine patrol on E. Napoleon Street in Sulphur at which time he heard gunshots.  The deputy observed numerous motorcycles and an SUV in an abandoned business parking lot.  While the deputy was driving towards the parking lot the individuals fled the area.  During a search of the parking lot, detectives located two firearms, blood, and numerous shell casings of different calibers.   
A short time later deputies conducted a stop on the SUV that fled and made contact with the driver, Justin D. Wareham, 39, 2421 Straley Road, Westlake, a member of the Bandidos MC, a recognized outlaw motorcycle gang.  During a search of the SUV deputies located a firearm. 
During further investigation detectives made contact with Orange County Sheriff's Office, who advised they were out with several individuals that may be connected to the incident in Sulphur, one of whom was suffering from a gunshot wound to the arm.  CPSO Detectives were advised the victim was refusing to cooperate with law enforcement, but he was being transported to a local hospital in Texas to be treated for his injury. 
After further investigation Wareham was arrested and booked into the Calcasieu Correctional Center and charged with illegal discharge of a weapon.  His bond is still pending.  
The investigation is continuing and more arrests and charges are likely.  Assisting agencies include the Sulphur Police Department and the DeQuincy Police Department.   
An arrest is an indication that probable cause exists to believe the subject was involved in the offense alleged.   A person is innocent until proven guilty beyond a reasonable doubt.