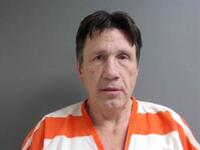 Lake Charles, LA –
On March 22 Calcasieu Parish Sheriff's Office deputies were dispatched to a business on Highway 109 in Vinton in reference to a burglary.
During the initial investigation deputies learned the suspect used a crowbar to break the glass on the front door of the business.  Once inside the suspect stole liquor, cigarettes, and an undisclosed amount of cash from inside the register. 
After further investigation deputies identified the suspect as Byron S. Stracener, 58, Channelview, TX.  On March 24 detectives issued a warrant for Stracener's arrest in the amount of $27,500 signed by Judge Tony Fazzio, charging him with theft from $5,000 to $25,000; simple criminal damage to property; and simple burglary.
Stracener was arrested the same day by the Beauregard Parish Sheriff's Office for a burglary that occurred in Beauregard Parish.  He was booked into the Beauregard Parish Detention Center.   
CPSO Detective Jill Feverjean is the lead investigator on this case.
An arrest is an indication that probable cause exists to believe the subject was involved in the offense alleged.   A person is innocent until proven guilty beyond a reasonable doubt.