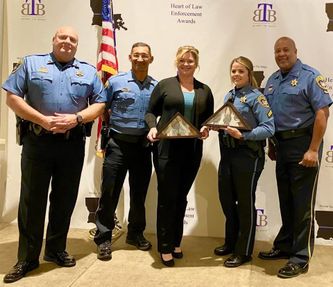 Lake Charles –
Calcasieu Parish Sheriff's Office Detective Jill Feverjean and Cpl. Alex Zaunbrecher were two of fifteen law enforcement officers from across the state to be awarded the 2022 Heart of Law Enforcement Award.  Detective Feverjean and Cpl. Zaunbrecher were nominated to receive this award for their selfless acts of kindness performed during 2021.   
On May 17, 2021, several communities in Calcasieu Parish were caught off guard as a historic 16-18 inches of rain fell over a six-hour period, causing an unprecedented flash flood. During this time, deputies from the Calcasieu Parish Sheriff's Office were deployed to do what they do best, respond to emergencies. One place where deputies were sent was a local church which had quickly mobilized to serve as a makeshift shelter. In addition to providing crowd control functions, deputies were taking in reports of stranded motorists and residents from those who were able to get to the shelter. While speaking with residents and observing the surroundings, Detective Jill Feverjean noticed a despondent woman with no shoes. What really caught Detective Feverjean's attention, however, was the infant on an oxygen tank who was clinging to the shoeless woman. Detective Feverjean immediately approached the woman and child to inquire whether medical attention was needed. The woman responded that the child was good for the time being. Then, the woman relayed her story that she had quickly fled the rising flood waters with only minimal supplies for herself and her child. The despair in the woman's eyes and the compromised health of the young child spurred Detective Feverjean into action.  Feverjean went to the store and used her personal funds to buy shoes, diapers, and formula for the woman and child.
On January 20, 2021, Corporal Alex Zaunbrecher with the Calcasieu Parish Sheriff's Office was dispatched to a disturbance call. During the course of the investigation, it was revealed that one of the individuals present on scene was a victim of human trafficking. The adult victim had a small child with her which complicated matters. Both of them were apprehensive of law enforcement and the adult victim was less than cooperative with responding deputies trying to file their report. Corporal Zaunbrecher intervened and was able to calm down the victim and also encouraged her to participate in the investigation. Subsequently, Corporal Zaunbrecher learned that the adult victim was heavily reliant on the male suspect from the disturbance call, mainly because she and her child were homeless. Corporal Zaunbrecher took it upon herself to secure a motel room for the mom and child, and also purchased food and clothing using her personal funds. Zaunbrecher also ensured the child had a few toys to occupy her time while at the hotel. The next morning, while Corporal Zaunbrecher was off-duty, she was able to locate a family friendly homeless shelter for the adult victim and child. With no other means of transportation, Zaunbrecher, while off-duty, drove them across the state to the shelter and helped to get them settled in.
"I am pleased Detective Feverjean and Cpl. Zaunbrecher are being recognized by the Beyond the Badge organization, they are very deserving recipients.  Both deputies went above and beyond what is required of them as a deputy and displayed genuine acts of kindness for those who are most vulnerable.  I am proud to say they work for the Calcasieu Parish Sheriff's Office," says Sheriff Tony Mancuso.    
The deputies were presented the award by Beyond the Badge, a non-profit organization, on March 8 during a ceremony and luncheon that was held in Baton Rouge. 
Pictured from left to right: Captain Robert Manuel, Enforcement; Commander Nick Fontenot, Investigations; Detective Jill Feverjean, Investigations; Cpl. Alex Zaunbrecher, Patrol; Chief Deputy Gary "Stitch" Guillory