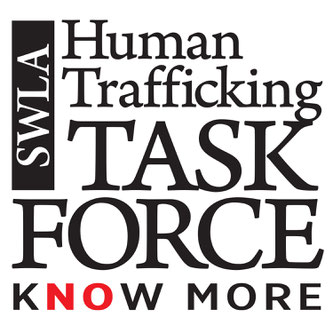 Lake Charles, LA –
Law enforcement leaders announce the formation of the SWLA Human Trafficking Task Force.
The SWLA Human Trafficking Task Force is comprised of local, state, and federal law enforcement agencies, prosecutors, and local service agencies and non-profits working together to prevent sexual exploitation, and prosecute human trafficking cases in and around Calcasieu Parish.  The mission of the task force is to identify, investigate, and prosecute those individuals responsible for human trafficking, all while providing quality social services to those who find themselves a victim to this horrendous crime.
"January is National Human Trafficking Prevention Month.  There is no better time than now to initiate conversations in our community and raise awareness about human trafficking," stated Sheriff Tony Mancuso.  "No town is immune to human trafficking or sex trafficking and we want to make sure the residents here in SWLA are educated on how to identify victims.  We also want to ensure the victims of these crimes we are here to help them and they are the reason we have created this task force; if we can save one person by the initiatives of this task force, we have done our jobs."
Calcasieu District Attorney Stephen Dwight says, "Human Trafficking is real and it happens right here in our parish. The SWLA Human Trafficking Task Force will provide the education needed to know the indictors of what a victim of Human Trafficking looks like and how to report it. If our community is properly educated then we can put a stop to this awful crime happening in our community and these victims will gain their freedom back. I look forward to seeing our community come together in the fight to end Human Trafficking and I am proud to be involved."
"The Lake Charles Police Department is committed to ensuring that our citizens feel safe in our community. We believe this safety is something they deserve," said Lake Charles Police Department Deputy Chief Franklin Fondel. "Human trafficking is a large topic of conversation nationwide and it is an issue that cannot be solved by one agency alone. We are grateful for the opportunity to be a part of this task force and look forward to working with our partners to address this issue in our community."
"Human trafficking is a crime against humanity and is a form of modern slavery," says United States Attorney Brandon Brown.  "We must continue to be vigilant and aggressive in combating these heinous acts but of equal importance, we must compassionately assist and rehabilitate these victims. In other words, law enforcement and certain community based organizations must come together to set these victims free and simultaneously capture and punish the offenders in this district who prey on "the least of these" or the most vulnerable people of our respective communities. We have a legal and moral obligation to do so as public servants in the Western District of Louisiana." 
"Human Trafficking is a crime that hides in plain sight and it involves the use of force, fraud, or coercion to obtain some type of labor or commercial sex act," said FBI New Orleans Special Agent in Charge Douglas A. Williams, Jr. "The FBI works closely with local, state, and federal law enforcement partners, as well as non-government agencies and non-profits on the front lines to combat human trafficking." 
The SWLA Human Trafficking Task Force is a joint project including the Calcasieu Parish Sheriff's Office, Calcasieu Parish District Attorney's Office, Lake Charles Police Department, Western District of LA U.S. Attorney's Office, FBI, Calcasieu Parish Office of Juvenile Justice Services, Calcasieu Parish Combined Anti-Drug Task Force, Calcasieu Parish School Board, Child Advocacy Center, Department of Child and Family Services, Diocese of Lake Charles, Family and Youth Counseling Agency, Oasis, Rape Crisis, SANE, United Way of SWLA, and Water's Edge Church.   
If you belong to a local service agency or non-profit that would like to be involved please send an email to info@cpso.com.