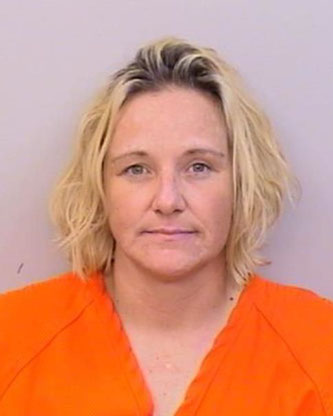 Lake Charles, LA –
On October 11 Calcasieu Parish Sheriff's Office detectives received a report in reference to the theft of two firearms. 
During the investigation it was discovered an acquaintance of the victim, Shamberly M. Edgerton, 42, 3433 L. Benoit Road, Lake Charles, went to his residence while he was out of town.  Edgerton was let inside by a roommate, at which time she stated she was there to gather belongings for the victim for safe keeping until he returns.
When detectives spoke with Edgerton she confirmed she took some of the victim's belongings, including two firearms, from his residence although he did not ask her to do so.  She then advised detectives the firearms were inside her vehicle when it was burglarized at a local boat launch, at which time the guns were stolen.  It was learned Edgerton did not file a report with law enforcement in reference to the vehicle burglary.
She was arrested and booked into the Calcasieu Correctional Center and charged with 2 counts of theft of a firearm.  Judge Derek Kee set her bond at $2,500.  Edgerton is also being held on a probation hold. 
CPSO Detective Chris Duhon is the lead investigator on this case.  
An arrest is an indication that probable cause exists to believe the subject was involved in the offense alleged.   A person is innocent until proven guilty beyond a reasonable doubt.