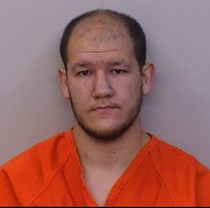 CPSO ARRESTS MAN FOR AGG 2NDDEGREE BATTERY AFTER SHOOTING
Lake Charles, LA –
Yesterday evening at approximately 5:00 p.m.Calcasieu Parish Sheriff's Office deputies were dispatched to a residence located at 7529 Snapper Lane in Lake Charles in reference to a shooting.
 During the initial investigation it was discovered the victim and a resident at the home, Phoenix J. Grindol, 25, had an argument and the victim began beating on the door of the home while Grindol was inside.  Grindol then shot the victim through the door.  Deputies were advised the victim had left the scene prior to their arrival.  A short time later deputies learned the victim was located at a local hospital, suffering from a gunshot wound. 
After further investigation Grindol was arrested and booked into the Calcasieu Correctional Center and charged with aggravated 2nd degree battery.  His bond is still pending.  
The victim is listed in stable, but serious condition. 
CPSO Detective Travis Mier is the lead investigator on this case.   
An arrest is an indication that probable cause exists to believe the subject was involved in the offense alleged.   A person is innocent until proven guilty beyond a reasonable doubt.