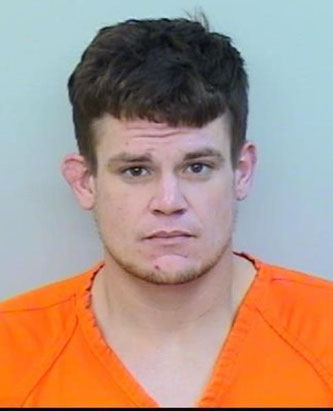 Lake Charles, LA –
On September 5 Calcasieu Parish Sheriff's Office deputies were dispatched to a home on Cox Road in Westlake in reference to a burglary and theft.
During the initial investigation it was discovered the suspect made entry into the home, sometime between September 2 and September 5, by breaking a window in the back of the residence.  Once inside the home the suspect stole several items including jewelry and a TV.  Deputies were able to obtain DNA evidence from the scene, which was sent to the SWLA Crime Lab for processing.
The sample DNA was submitted into Combined DNA Index Systems (CODIS) and detectives received later notification that the DNA was a match for Travis J. Garner, 32, 450 Parish Road #201, Lake Charles.  
On October 20 detectives made contact with Garner at his residence.  During questioning he stated he went back to the residence a second time, between September 25 and September 27, at which time he stole appliances and outdoor equipment from under the carport.  Prior to questioning Garner was found to be in possession of methamphetamines and drug paraphernalia, along with several of the items that were previously stolen from the residence. 
He was arrested and booked into the Calcasieu Correctional Center and charged with simple burglary; theft $1,000 - $5,000; theft less than $1,000; criminal damage to property; criminal trespassing; possession of CDS II; and possession of drug paraphernalia.  His total bond is set at $36,500.
CPSO Detective Chris Duhon is the lead investigator on this case. 
An arrest is an indication that probable cause exists to believe the subject was involved in the offense alleged.   A person is innocent until proven guilty beyond a reasonable doubt.