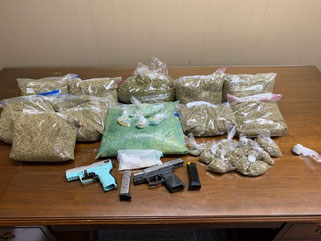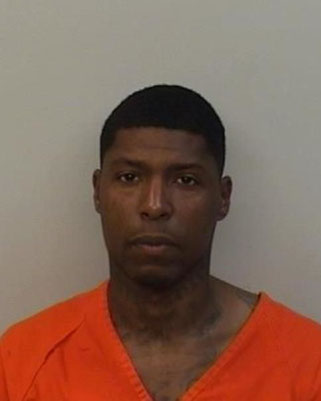 Lake Charles, LA –
On May 10 at approximately 3:30 p.m., detectives with the Combined Anti-Drug Task Force (C.A.T. Team) conducted a stop on a car traveling westbound on I-10 near mile marker 36 in Lake Charles for a traffic violation.
Detectives spoke with the driver Jarvis J. Reynaud, 33, 708 N. Prater Street, Lake Charles, who began to act suspiciously.  Detectives deployed a trained and certified drug detection K-9 to conduct a free air sniff around the vehicle at which time a positive response to the odor of a controlled substance coming from inside the car was indicated.  During a subsequent search of the car detectives located 2 bags of ecstasy/MDMA tablets, a bag of alprazolam tablets, and a bag of marijuana.  Detectives also located a firearm, which had previously been reported stolen through CPSO. 
After further investigation detectives obtained a search warrant for Reynaud's residence.  During execution of the warrant detectives located numerous gallon and sandwich sized zip lock bags of synthetic marijuana, a large bag of marijuana, and several bags of ecstasy/MDMA tablets.  Detectives also located another stolen firearm, which had previously been reported through LCPD. 
During the course of the investigation detectives seized a total of approximately 21 grams of alprazolam, 7 pounds of ecstasy/MDMA, over 9 pounds of synthetic marijuana, and over 1 pound of marijuana; with a total estimated street value of $54,000.    
Reynaud, who is a convicted felon, was arrested and booked into the Calcasieu Correctional Center and charged with a traffic citation; 2 counts of possession of CDS I with intent to distribute; possession of CDS IV with intent to distribute; possession of drug paraphernalia; illegal carrying of a weapon in the presence of a CDS; possession of a firearm by a convicted felon; and illegal possession of a stolen firearm.  Reynaud also has a Parole detainer.  His bond has not yet been set.