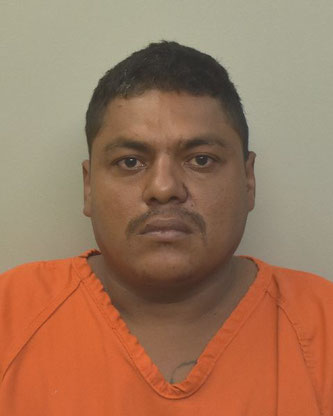 Lake Charles, LA –
On November 1 at approximately 10:50 p.m. Calcasieu Parish Sheriff's Office deputies were dispatched to a residence on Goos Road in Moss Bluff in reference to a stabbing.  The complainant advised a woman had showed up at his home with a stab wound.
When deputies arrived they spoke with the victim who stated she was stabbed by a man she recently met, later identified as Gerardo Calix-Arteaga, 38, 2065 Goos Road, Moss Bluff, while she was at his residence.  The victim advised deputies after she was stabbed, she was held against her will and raped by Arteaga.  She stated she was eventually able to flee the residence and go to a house nearby for help. 
During the initial investigation deputies learned Arteaga had fled the scene prior to their arrival.  A short time later, with the assistance of CPSO K9 Shadow and his handler CPSO Sr. Cpl. Bryan Stewart, Arteaga was apprehended in a wooded area behind the home where the stabbing occurred. 
Arteaga was arrested and transported to a local hospital for injuries he sustained during his apprehension.  He was later released and transported to the Calcasieu Correctional Center where he was booked in and charged with false imprisonment offender armed with a dangerous weapon; aggravated battery; 1st degree rape; and resisting arrest.  His bond is still pending.  It was also learned Arteaga had a detainer for U.S. Border Patrol. 
The victim was transported to a local hospital where she was treated and released.
CPSO Detective Michael Miller is the lead investigator on this case.