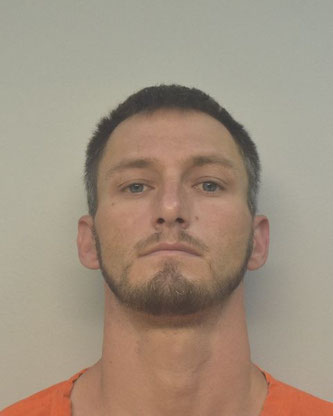 Lake Charles, LA –
On July 3 at approximately 6:30 a.m. Calcasieu Parish Sheriff's Office deputies were dispatched to a business in the 5100 block of Maplewood Drive in Sulphur in reference to a theft.  During the initial investigation detectives observed video surveillance from the business and learned earlier that morning an unknown man had stolen a company truck and trailer containing two zero turn lawn mowers and a welding machine, along with numerous other lawn equipment tools, all totaling over $50,000.  Detectives were also advised by the complainant the suspect damaged the gate outside the business.   
After further investigation detectives, with the assistance from the CPSO Real Time Crime Center, learned Brock D. Galloway, 31, Livingston, Texas, was responsible for the property damage and theft and on July 8 detectives obtained a warrant for his arrest.  He was located on July 18 and arrested and booked into the Calcasieu Correctional Center and charged with theft of a motor vehicle $5,000 to $25,000; theft over $25,000; and simple criminal property damage $1,000 to $50,000.  Judge Clayton Davis set his bond at $32,000.
When detectives spoke with Galloway he confirmed he was responsible for the theft.  Galloway also provided detectives with information that led to the recovery of some of the stolen items.   
Also assisting CPSO detectives with the recovery of the stolen items was the Texas City Police Department and the Polk County Sheriff's Office. 
CPSO Detective James Rathke is the lead investigator on this case.