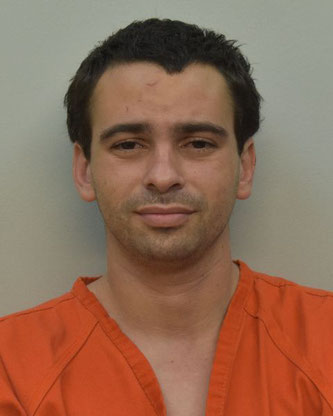 Lake Charles, LA –
On April 28 at approximately 11:30 a.m. Calcasieu Parish Sheriff's Office deputies were dispatched to a business on W. Dave Dugas Road in Sulphur in reference to a possible kidnapping.  When deputies arrived they learned an employee who had arrived to work around 3:30 a.m. attempted to open the business approximately an hour later and learned she had been locked inside. 
During the initial investigation detectives viewed video surveillance and observed a man, later identified as Matthew D. Allen, 29, 1205 W. Dave Dugas Road, Sulphur, was dropped off in the business parking lot earlier that morning.  They watched Allen remain on the property for several hours prior to the victim arriving at work.  They observed the victim arrive at work and enter the business; at which time they witnessed Allen attempt to cut the power off to the business at the breaker box, but was unsuccessful.  Detectives then observed Allen approach the front of the business and tamper with the surveillance camera.  It was later learned he smeared blood on the camera lens.  Detectives continued to watch the surveillance footage which showed Allen at the front of the business.  Allen was observed locking a padlock, which was left unlocked on the door, from the outside; while the employee was still inside. 
During further investigation detectives observed the metal siding on the business was damaged.  After detectives located blood on the steps and railing in the area of the damaged metal siding it was determined Allen attempted to gain entry to the business by prying the metal siding off, but was unsuccessful.
A short time later Allen was located at his residence in the same clothing he was observed to be wearing on the surveillance footage.  He was arrested and booked into the Calcasieu Correctional Center and charged with 2nd degree kidnapping; and attempted simple burglary.  Judge David Ritchie set his bond at $70,000. 
CPSO Detectives Michelle Robinson is the lead investigator on this case.