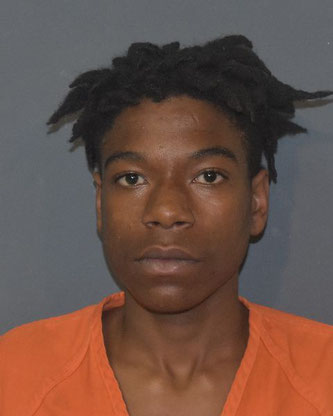 CPSO ARRESTS THREE FOR VEHICLE BURGLARIES
Lake Charles –
On February 5 Calcasieu Parish Sheriff's Office deputies responded to several complaints of vehicle burglaries in a neighborhood off Highway 14 East in Iowa.  While on scene deputies also located an abandoned car stuck in a yard.    
During the initial investigation detectives were able to obtain surveillance video from homes in the area showing three suspects entering unlocked vehicles earlier the same morning.  While deputies were investigating the vehicle burglaries in Iowa, CPSO dispatch was also receiving calls from residents in a neighborhood off Louisiana Avenue in Lake Charles in reference to vehicle burglaries and a stolen car, which had occurred the previous night.
After further investigation it was learned the car that was stolen from the neighborhood off Louisiana Avenue was the same car deputies found abandoned in the neighbored in Iowa.  VCIU detectives obtained surveillance video from the homes in Lake Charles and observed the same suspects from the vehicle burglaries in Iowa.  After releasing images of the suspects to the public CPSO received several tips and detectives, along with the assistance from the CPSO Real Time Crime Center and School Resource Officers, were able to identify one of the suspects as Taveon E. Williams, 18, 4116 Worthy Drive, Lake Charles. 
On February 11 CPSO VCIU detectives arrived at Williams' residence in an attempt to locate him; at which time they observed a car in the driveway with three men inside.  When two of the men observed detectives they fled the area on foot, leading detectives on a foot pursuit.  A CPSO K-9 was deployed and located the men, Williams and a 17 year old juvenile, hiding in the shed of an abandoned house nearby.  Williams and the juvenile were transported to the Calcasieu Parish Sheriff's Office for questioning in reference to the burglaries and thefts in the neighborhoods in Iowa and Lake Charles; along with the stolen car.  While speaking with detectives they confirmed they were the ones responsible.  They were both arrested; Williams was booked into the Calcasieu Correctional Center and the juvenile was booked into the Juvenile Detention Center.  Detectives were also able to identify the third suspect, a 17 year old juvenile, and located him the following day, February 12, at his residence.  He was arrested and booked into the Juvenile Detention Center.
They are all charged with 12 counts of simple burglary; 6 counts of theft less than $1,000; and theft of a motor vehicle.  Judge Sharon Wilson set Williams' bond at $50,500. 
During the investigation detectives located 5 firearms, which had been previously reported stolen through the Lake Charles Police Department; along with a large sum of counterfeit money.       
The investigations are still pending and more charges are possible.
CPSO VCIU Detective Hollan Dyer is the lead investigator on these cases.