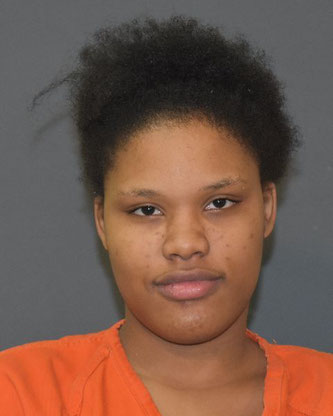 Lake Charles, LA –
On February 4 at approximately 1:00 p.m. a Calcasieu Parish Sheriff's Office deputy was on a traffic complaint when he observed an elderly man flagging him down near Highway 14 and 8th Street in Lake Charles. 
Upon speaking with the man the deputy was advised a woman, later identified as Moeshay L. Janice, 19, 919 Vincent Street, Vinton, knocked on his door and asked for a ride to the hospital.  The man stated that once he opened the door, while he was distracted, Janice grabbed his set of car keys off the counter and attempted to leave the residence.  The man then advised the deputy he was able to get his keys back but Janice pushed her way back into the home, knocking over an elderly woman inside the residence, and took another set of keys.  The man stated he attempted to stop Janice, but was knocked down; at which time she fled the residence in his wife's SUV. 
CPSO detectives arrived on scene and began canvassing the area, in an attempt to locate Janice.  A short time later she was observed walking in the area where the home invasion occurred.  She was arrested and booked into the Calcasieu Correctional Center and charged with home invasion; carjacking; and battery of the infirmed.  Judge David Ritchie set her bond at $800,000. 
CPSO Deputy Alex McKnight is the arresting deputy and CPSO Detective Travis Lavergne is the lead investigator on this case. 
The SUV was later located with the assistance of OnStar
The two victims received minor injuries.