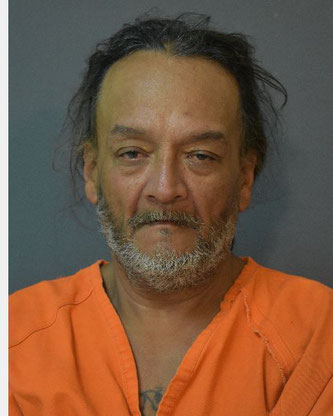 Lake Charles, LA –
On October 9 at approximately 11:30 p.m. Calcasieu Parish Sheriff's Office deputies conducted a stop on a van near Highway 171 and Lavergne Road in Moss Bluff after it was learned the van had a stolen license plate displayed. 
After speaking with the driver and passenger it was learned the owner of the van was asleep in the cargo area of the van.  When deputies made contact with the owner he stated he did not have an ID.  He also advised deputies he is self-employed and has been in the area, living out of his van, for a couple months while working.  When questioned about the stolen license plate he stated he purchased the van a couple months ago and the plate was already on the van and he never registered the van in his name.  During further investigation deputies located meth along with drug paraphernalia containing marijuana inside the van, at which time the owner stated belonged to him. 
During the investigation while attempting to verify his identity, the owner of the van gave a fake name to deputies on two occasions.  He was arrested and transported to the Calcasieu Correctional Center.  Prior to their arrival at the CCC the man gave deputies his true identity, Ronnie S. Woods, 55, Baton Rouge, LA, and advised he had an outstanding warrant in Baton Rouge.  Deputies verified his identify and learned Woods was a convicted sex offender and had an active warrant out of East Baton Rouge Parish for failure to register as a sex offender.
Due to Woods' sex offender status he was required to register in Calcasieu Parish due to him staying and working here, making him in violation of his sex offender registration requirements.  Woods is also required to have a sex offender identification card, which he did not possess, also making him in violation of his sex offender requirements.
He was booked into the Calcasieu Correctional Center and charged with illegal possession of stolen things less than $1,000; possession of CDS II; possession of marijuana; possession of drug paraphernalia; resisting an officer by refusal to ID; failure to register and notify as a sex offender; and failure to comply with sex offender identification requirements.  Judge Robert Wyatt set his bond at $55,000.
Woods was initially convicted of aggravated oral sexual battery in 1999 in East Baton Rouge Parish.  He was also convicted of molestation of a juvenile in 2007 in East Baton Rouge Parish and failure to register as a sex offender in 2007 in the 21st Judicial District. 
CPSO Sr. Cpl. Kevin P. Fontenot is the arresting deputy on this case.