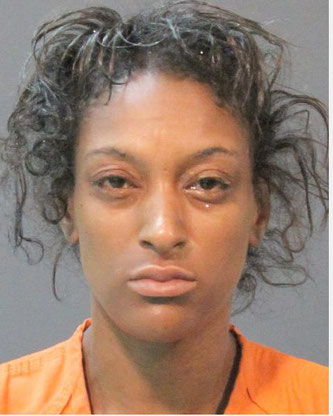 Lake Charles –
On September 26 at approximately 5:00 p.m. Calcasieu Parish Sheriff's Office deputies responded to call at a local hospital in reference to a possible cruelty to a juvenile.  Upon deputies' arrival they were advised by hospital staff that a 16 month old girl had tested positive for methamphetamines.
During the investigation detectives spoke with the baby's mother, Latoya N. Rideau, 32, Lake Charles, who advised deputies she was using meth while breastfeeding the girl.  She was also found to be in possession of meth and drug paraphernalia.  She was arrested and booked into the Calcasieu Correctional Center.  During booking an additional two bags of meth was located clinched in Rideau's hands.  Deputies asked Rideau if she had any additional drugs in her possession to which she stated no; but during a search deputies located an additional bag of meth concealed inside her bra. 
Rideau is charged with 2nd degree cruelty to a juvenile; possession of CDS II; possession of drug paraphernalia; illegal use of CDS in the presence of a juvenile; introduction of contraband into a penal institution; and obstruction of justice.  Judge Sharon Wilson set her bond at $12,000.
CPSO Sgt. Brian Batchelor and Cpl. Jacob Williams were the arresting deputies on this case.  CPSO Detective Kara Adams is the lead investigator on this case.