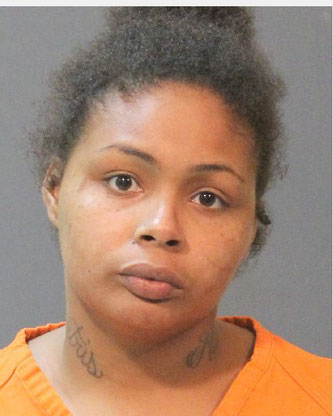 Lake Charles, LA –
On August 22 at approximately 11:00 a.m. a Calcasieu Parish Sheriff's Office deputy was dispatched to a home on North Bilbo Street in Lake Charles in reference to children that were left at home with no guardian.
When the deputy arrived at the home he made contact with the mother of the children, Mary N. Semien, 23, Lake Charles.  When questioned by the deputy Semien stated she left her children, ages 4, 2, 1 and 3 months, home alone for approximately 10 to 15 minutes while she went to a neighbor's house.  When the deputy entered the home he observed the children locked in a bedroom with no air conditioner running and three of the four children had soiled diapers.  The deputy also observed the home to be in poor living condition with very little food.  Upon a search of the home the deputy located synthetic marijuana and a dog which was emaciated and full of bugs, with no food or water for the dog in the house. 
After detectives interviewed Semien she was arrested and booked into the Calcasieu Correctional Center and charged with 4 counts of cruelty to juveniles; cruelty to animals; possession of synthetic marijuana; and illegal use of a controlled substance in the presence of juveniles.  Judge Sharon Wilson set her bond at $6,000.
Emergency medical personnel were called on scene to evaluate the children and they were released to a family member by the Department of Children and Family Services.  
Calcasieu Parish Animal Services responded and removed the dog.
CPSO Deputy Robert Nordan IV is the arresting deputy on this case.  CPSO Detective Monte Gentry in the lead investigator on this case.