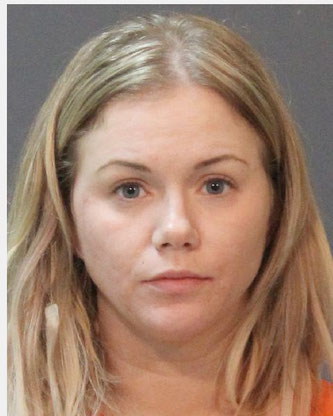 Lake Charles –
On February 10 at approximately 6:00 a.m. Calcasieu Parish Sheriff's Office deputies were dispatched to a single vehicle accident that occurred in a parking lot on Houston River Road in Westlake. 
 When deputies arrived on scene they located the driver, Alyssa A. Chapman, 29, 3206 N. Perkins Ferry Road, Moss Bluff, standing outside her SUV.  The deputy observed the SUV to have backed over a guard rail, causing the rear tires to come off the ground.  When deputies spoke with Chapman they observed her to have unsteady balance and slurred speech.  When deputies questioned Chapman as to whether she had been drinking or had taken narcotics, she advised them on the previous day she had taken two medications that were prescribed to her.  Deputies also learned she was driving under suspension for prior DWI offenses.   
After Chapman performed poorly on a standard field sobriety test she was arrested and transported to the Calcasieu Parish Sheriff's Office for breath intoxilyzer test.  After providing a proper breath sample, Chapman agreed to have her blood drawn for a toxicology report.  She was then transported to a local hospital.  After hospital personnel collected the blood sample she was transported back to CPSO. 
Chapman, who has 2 prior DWIs in the past 10 years, was booked into the Calcasieu Correctional Center and charged with DWI 3rd; and driving under suspension.  Judge Robert Wyatt set her bond at $12,500.
CPSO Cpl. Robert Waggoner was the arresting deputy on this case.