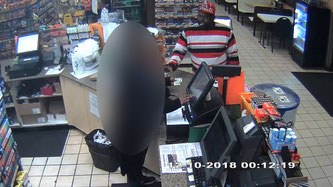 CPSO SEARCHING FOR MAN WHO STOLE MONEY
Lake Charles –
            On Monday, December 10 around midnight at the Fuel Stop 36 on Highway 397 in Lake Charles, the Calcasieu Parish Sheriff's Office was dispatched in reference to a theft.  The investigation revealed a customer took money out of his pocket and placed in on the counter while checking out.  He inadvertently left the money on the counter when he left the store.  Surveillance video from the store shows a man at the counter, pick up the money and place it in his pocket.
            The suspect is approximately 5'10" tall, weighing around 200 pounds with a thin full-face beard.  In the video he is wearing a red, black and white striped long sleeve shirt with a red cap.
Anyone who recognizes this man or has information about this theft, please contact Detective Chad Collins at 494-4539.