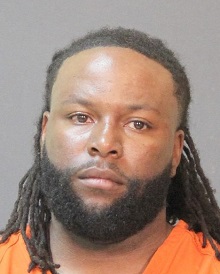 Lake Charles –
On September 3 at approximately 9:00 p.m. a Calcasieu Parish Sheriff's Office deputy was dispatched to the area of E. Prien Lake Road and Highway 397 in Lake Charles in reference to a single vehicle accident.
 When the deputy arrived he located a truck in the ditch and then observed a man, later identified as George M. Morris, 27, 2465 Highway 397, Lot #217, Lake Charles, standing by a passerby's vehicle.  When the deputy spoke with Morris he stated he had been driving the truck located in the ditch.  While speaking with Morris the deputy detected an odor of alcoholic beverages on his person.  While investigating the crash the deputy learned Morris had a suspended driver's license for previous DWI.  It was also discovered the license plate on the truck was not registered to that truck and there was no up to date insurance coverage on the truck. 
After Morris performed poorly on a standard field sobriety test he was arrested and transported to the Calcasieu Parish Sheriff's Office for breath intoxilyzer test; which he refused.  After the deputy learned Morris had two prior DWI arrests, he obtained a warrant to have his blood drawn for a toxicology report; he was then transported to a local hospital.  After hospital personnel collected the blood sample Morris was transported back to CPSO.
Morris was booked into the Calcasieu Correctional Center and charged with DWI 3rd; operating a motor vehicle under suspension; careless operation; no motor vehicle insurance; and switched license plate.  Judge David Ritchie set his bond at $50,000 with special conditions being he cannot consume any alcoholic beverages, he cannot operate a vehicle without an ignition interlock device and a valid driver's license, no other criminal activity, and he must be subject to random drug screenings.
CPSO Sr. Cpl. Cody Fontenot was the arresting deputy on this case.