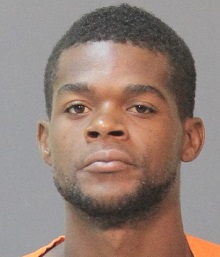 Lake Charles, LA –
On August 17 at approximately 4:00 a.m. the Calcasieu Parish Sheriff's Office was dispatched to a grocery store on Highway 171 in Lake Charles in reference to a disturbance.  
            Upon arrival the victim, who was an employee at the store, told deputies he asked a man, later identified as Terrell D. Williams, 24, 211 Louie Street, Lake Charles, if he needed any help and William became upset and began yelling at the victim, at which time he stated he walked away.  The victim then told deputies he went to another aisle and continued his work duties at which time Williams pulled out a box blade knife and told him he owed him forty dollars.  The victim stated he put his hands in the air after Williams told him to give him everything in his pockets.
An off-duty CPSO deputy, who was working security at the store, was informed of the situation and detained Williams until on-duty deputies arrived.  Williams was arrested and booked into the Calcasieu Correctional Center and charged with armed robbery.  Judge Michael Canaday set his bond at $80,000.
CPSO Detective Randall Gibbons is the lead investigator on this case.