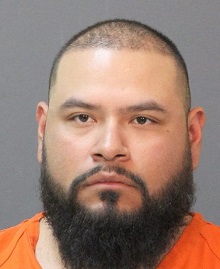 Lake Charles –
On August 8 at approximately 1:45 a.m. Calcasieu Parish Sheriff's Office deputies were dispatched to a night club on South Cities Service Highway in Sulphur in reference to a man who was refusing to leave the property.
When deputies arrived they observed a truck, matching the description given to deputies of the suspect's truck, leaving the property.  Deputies conducted a stop on the truck and spoke with the driver, Ruben Moralez, 33, Alamo, Texas.  While speaking with Moralez they detected an odor of alcohol emitting from his breath along with bloodshot eyes and slurred speech.  Moralez stated to deputies he had been drinking alcoholic beverages.   
After Moralez refused to perform a standard field sobriety test he was arrested and transported to the Calcasieu Parish Sheriff's Office for breath intoxilyzer test; which he also refused. 
Moralez, who has 2 prior DWI arrests, was booked into the Calcasieu Correctional Center and charged with DWI 3rd; and careless operation.  Judge David Ritchie set his bond at $26,000 with special conditions being he cannot consume any alcoholic beverages, he cannot operate a vehicle without an ignition interlock device, no other criminal activity, and he must be subject to random drug and alcohol screenings.
CPSO Cpl. Cody Grimes was the arresting deputy on this case.