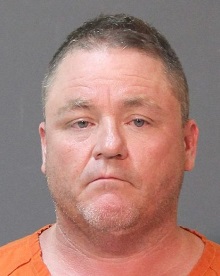 Lake Charles –
On July 15 at approximately 3:45 p.m. the Calcasieu Parish Sheriff's Office received a call at a grocery store in Sulphur in reference to an obscenity complaint.  Deputies were advised by the victim that while she was loading her groceries in her car she saw a man sitting in his car next to her.  She then told deputies the man laid his seat back, pulled off his shorts and began to masturbate.  The victim was able to take a picture of the car along with the license plate before the man fled the scene.     
Deputies were able to locate the car traveling near the intersection of Highway 171 and Theriot Road in Moss Bluff.  Deputies conducted a stop on the car and spoke with the driver, Samuel C. Blackmon, 48, DeRidder, who was only wearing his underwear.  After detectives spoke with Blackmon he was arrested and booked into the Calcasieu Correctional Center and charged with obscenity.  Judge Sharon Wilson set his bond at $7,500.
CPSO Sr. Cpl. Cody Fontenot was the arresting deputy and Detective James Jones is the lead investigator on this case.