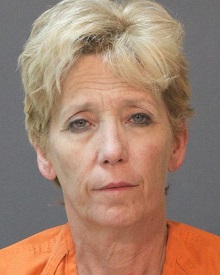 Lake Charles –
On June 28 at approximately 6:00 p.m., Calcasieu Parish Sheriff's Office deputies responded to a store on Highway 171 in Lake Charles in reference to a complaint of an intoxicated woman driving a car around the parking lot yelling at employees. 
When the deputies arrived they located the car and spoke with the driver, Christi K. Covington, 58, Montgomery, Texas, and observed her to have slurred speech and unsteady balance.  While speaking with Covington she advised deputies she had just taken medication. 
A deputy attempted to perform field sobriety testing at the scene but Covington was unable to complete the testing due to her impairment.  Covington was transported to a local hospital and the deputy obtained a warrant to have Covington's blood drawn for a toxicology report.  Hospital personnel collected the blood sample.
Covington, who has 2 prior DWI arrests, was transported and booked in the Calcasieu Correctional Center and charged with DWI 3rd .  It was also learned Covington had an out of state detainer from Texas.  Judge Ron Ware set her bond at $7,500.
CPSO Sr. Cpl. Christopher Miller was the arresting deputy on this case.