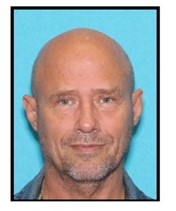 Tuesday, June 26 at approximately 2:50 a.m., Calcasieu Parish Sheriff's Office responded to I-10 westbound near the mile marker 20 after receiving a call from Louisiana State Police.   Upon arrival, deputies located John Michael Deville, 68, Lake Charles, deceased near his truck.
Deville was found to be missing his cell phone.  Calcasieu Parish Sheriff's Office detectives tracked his phone and the results put it in a nearby neighborhood on Pete Seay Rd., near where Deville's body was found.  That morning, two homes were burglarized and at the second home, a Jeep was stolen.  Two guns were also stolen during the burglaries.  Surveillance footage from the neighborhood showed a man, later identified as Ronald G. Mclain, 57, at the 2nd home and leaving in the Jeep.  A fingerprint recovered at the homes places Mclain at both burglaries. 
Further cell phone tracking, surveillance, and LPR hits lead investigators to Everyday Gas Station in Beaumont, TX.  Detectives travelled to the gas station in Beaumont and found Deville's phone dumped in a trash can.  Upon reviewing surveillance video, Mclain can be seen dumping the phone and entering the store, still wearing the same clothing he was seen wearing during the commission of the two home burglaries earlier that morning.
While assisting in the homicide investigation, Beaumont Police Officers made contact with a Volkswagen Passat leaving an area under surveillance as a result of the tracking of Deville's phone.  The car, later found to be stolen out of Jefferson County, was driven by a juvenile boy.  The boy provided information determined to be relevant to the homicide investigation.  He initially intentionally misidentified Mclain as Mclain's nephew.  Detectives interviewed Mclain's nephew and others located at residences in the area where Deville's cell phone was tracked.  Witnesses confirmed Mclain drove the Passat to Louisiana casinos on Monday night. Witnesses further confirmed Mclain was observed driving the stolen Jeep, was in possession of Deville's phone, and admitted to stealing both. 
A search of the area near the homicide and a search of the truck revealed shoe prints believed to be worn by Mclain during the commission of the crimes.  Detectives were also able to use surveillance video from a local casino to observe Deville's truck leaving the property, followed a short time later by the Volkswagen Passat. 
Mclain is a convicted felon as he was previously convicted of Aggravated Robbery with a Deadly Weapon in Nueces County, Texas when he was a teenager and was sentenced to fifty years in the Texas Department of Corrections.
A warrant is out for Mclain for 2nd degree murder; 2 counts of possession of firearm by a convicted felon; 2 counts of simple burglary of an inhabited dwelling; theft of a motor vehicle.  His bond has been set at $680,000.
CPSO Detective Casey Lafargue is the lead investigator on this case.