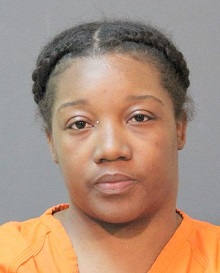 Lake Charles –
In December 2016 the Calcasieu Parish Sheriff's Office Animal Cruelty Detective along with Calcasieu Parish Animal Services (CPAS) responded to a call at a home on Burton Street in Sulphur in reference to a deceased dog and an emaciated dog at the residence.
Upon arrival, the detective observed the dogs to appear as though they not been fed in a decent amount of time and they also appeared to have been eating plastic.  Both the living and the deceased dog were seized by the investigator.  After the dogs were examined by a licensed veterinarian it was learned the deceased dog showed no signs of food in its digestive tract, but they did find what appeared to be pieces of plastic in the tract.  Both dogs were also found to be infested with heartworms.  The veterinarian advised the detective that both dogs suffered from starvation. 
During the investigation the detective learned after the dogs' owner passed away, they were in the care of Aquanillia R. Sibley, 27, 3226 Burton Street, Sulphur.  Sibley agreed to meet with the detective for interview, but failed to do so.  After further investigation the detective learned one witness offered to take the dogs and care for them  but Sibley refused.  Another witness stated he fed the dogs for approximately one week after the dogs' original owner died until Sibley told him not to come back.      
In May 2017 the case was turned over to the Calcasieu Parish District Attorney's Office and they accepted charges.  On May 26 a warrant was issued for Sibley's arrest in the amount of $30,000 for the charges of simple animal cruelty; and aggravated animal cruelty. 
On June 6, 2018, Sibley was arrested on the warrant by the Lake Charles Police Department and booked into the Calcasieu Correctional Center.  She was released later that evening.   
CPSO Detective Jennie Duncan was the lead investigator on this case.