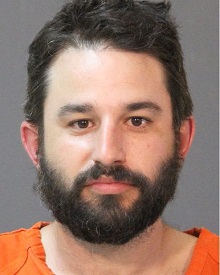 Lake Charles –
On May 17 at approximately 5:00 a.m. Calcasieu Parish Sheriff's Office deputies conducted a traffic stop on a truck near the intersection of Miller Avenue and Sulphur Avenue in Westlake. Deputies observed the truck stopped in the lane of travel and proceeded to check on the driver, Ryan L. Navarre, 35, 6269 Chaisson Road, Lake Charles, at which time he drove off and proceeded to cross the centerline several times and run off the road.
When deputies spoke with Navarre they could smell the odor of an alcoholic beverage emitting from his breath. They also observed him to have slurred speech and unsteady balance. When the deputy questioned Navarre he stated he had been drinking alcoholic beverages.
After Navarre performed poorly on a standard field sobriety test he was arrested and transported to the Calcasieu Parish Sheriff's Office for breath intoxilyzer test; which he refused. 

Navarre, who has 2 prior DWI arrests in the last ten years, was booked into the Calcasieu Correctional Center and charged with DWI 3rd; and careless operation. He was released the next day on a $16,000 bond; with special conditions being he cannot operate a vehicle without an ignition interlock device and a valid driver's license set by Judge Sharon Wilson.
CPSO Sr. Cpl. Larry Cormier was the arresting deputy on this case.