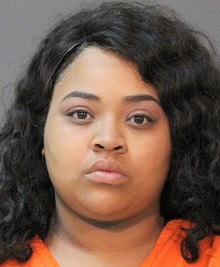 Lake Charles, LA –
On April 24 Calcasieu Parish Sheriff's Office detectives were dispatched to a business in Lake Charles regarding an employee that was stealing from the company. 
Upon arrival, detectives spoke with management who stated they had already spoken to the employee, Sakortlyn B. Winbush, 21, 2219 Greenlawn Street, Lake Charles, and she had written a confession of stealing the money.  When detectives spoke with Winbush she stated while working at the service desk she used a manager's code to override the computer system and print duplicate copies of money orders.  She advised detectives she would cash the money orders herself or have her family and friends cash the money orders and give her the money.  Detectives learned from January until April of this year Winbush stole over $34,000 by using duplicate money orders. 
She was arrested and booked into the Calcasieu Correctional Center and charged with theft over $25,000.  She was released on April 26 on a $10,000 bond set by Judge David Ritchie.
CPSO Detective Shelli Fontenot is the lead investigator on this case.