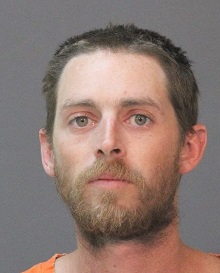 Lake Charles –
On March 30 at approximately 1:30 p.m. a Calcasieu Parish Sheriff's Office deputy was approaching an SUV traveling eastbound on Ravia Road in Sulphur, at which time the SUV suspiciously braked to a slow rate of speed and immediately turned into a private drive.  The SUV was in the driveway for approximately one minute and then backed out and continued eastbound on Ravia Road, at which time the deputy initiated a traffic stop on the SUV. 
When the deputy attempted to speak with the driver, the passenger, John H. Adams IV, 29, Youngstown, FL, attempted to answer all the questions directed at the driver.  The deputy instructed Adams to exit the vehicle and while speaking with him he detected an odor of alcohol emitting from his person, as well as, blood shot eyes.  When the deputy went to speak with the driver again it was learned they pulled into the driveway so Adams could switch from driving the SUV to the passenger seat because he had been drinking.  She also advised the deputy there was an open container of liquor and beer inside the SUV.      
After Adams, who has 3 prior DWIs, performed poorly on a standard field sobriety test, he was arrested and transferred to the Calcasieu Parish Sheriff's Office, where a breath intoxilyzer test revealed he was over the legal limit.  He was booked into the Calcasieu Correctional Center and charged with DWI 4th; and operating a vehicle while under suspension.  He was released on April 2 on a $12,000 bond; with special conditions being he cannot operate a vehicle without an ignition interlock device and he must wear an alcohol detecting ankle bracelet, set by Judge Clayton Davis.
CPSO Deputy Jeremy Wolford is the arresting deputy on this case.