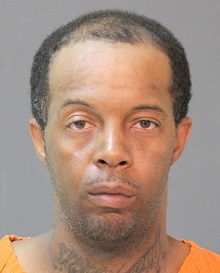 Lake Charles –
On March 23 at approximately 6:20 a.m. a Calcasieu Parish Sheriff's Office deputy initiated a traffic stop on a SUV near Park Street and North Crocker Street in Sulphur for a traffic violation.
When the deputy spoke with the driver, Demarcus D. Mitchell, 39, 773 Henry Street, Sulphur, he detected an odor of alcohol emitting from his person. 
After Mitchell, who has 2 prior DWIs, performed poorly on a standard field sobriety test, he was arrested and transferred to the Calcasieu Parish Sheriff's Office, where a breath intoxilyzer test revealed he was over the legal limit.  He was booked into the Calcasieu Correctional Center and charged with DWI 3rd; operating a vehicle while under suspension; and a traffic citation.  He was released later the same day on a $15,500 bond set by Judge Guy Bradberry.
CPSO Deputy Jeremy Wolford is the arresting deputy on this case.