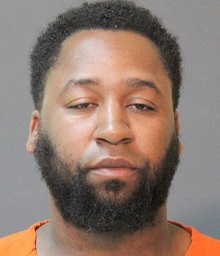 Lake Charles –
On February 22 at approximately 10:50 p.m., Calcasieu Parish Sheriff's Office deputies were dispatched to a home on Shellie Lane in Moss Bluff in reference to a violation of a protective order.  Upon arrival, deputies were informed by the complainant that Lawrence Q. Malveaux, 32, 1009 17th Street, Lake Charles, who she has a current active protective order against, forced his way inside her residence and then fled the scene.
During the investigation the victim told detectives her, as well as, another man inside the home heard something at the front door at which time they cracked the door open to see if someone was outside.  She stated when the man cracked the door open, Malveaux, who was outside, pushed the door and forced his way inside the house and started hitting the man.  She then told detectives there was a short struggle inside the home between Malveaux and the other victim but then they went outside and Malveaux fled on foot behind the residence.
Deputies were able to locate Malveaux nearby and he was arrested and transported to a local hospital to be treated for an injury he sustained during the home invasion.  He was treated and released, at which time he was booked into the Calcasieu Correctional Center and charged with home invasion; violation of a protective order; and simple battery.  He was released on February 27 on a $9,000 bond set by Judge Clayton Davis.
CPSO Detective Kevin Fontenot is the lead investigator on this case.