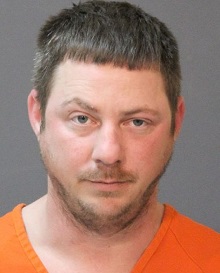 Lake Charles –
On February 14 at approximately 12:00 a.m. Calcasieu Parish Sheriff's Office deputies were dispatched to the 3400 block of Choupique Road in Sulphur in reference to a vehicle in the ditch.   
When deputies arrived they observed a car in the ditch in the curve of Choupique Road, southeast of Gum Island Road.  When deputies spoke with the driver, Michael D. Tabor, Jr., 37, Vinton, they detected an odor of alcohol emitting from his breath and observed him to have unsteady balance and slurred speech.  When deputies questioned Tabor he advised he had two alcoholic beverages approximately four hours prior to the crash.      
After Tabor, who has 2 prior DWIs, performed poorly on a standard field sobriety test, he was arrested and transferred to the Calcasieu Parish Sheriff's Office, where a breath intoxilyzer test revealed he was over the legal limit.  He was booked into the Calcasieu Correctional Center and charged with DWI 3rd; and careless operation.  Tabor was released later the same day on a $8,000 bond set by Judge Ron Ware.
CPSO Sr. Cpls. Scott Rosteet, Christopher Rabb and Deputies Garrett Douglas and Bradley Lamar are the arresting deputies on this case.