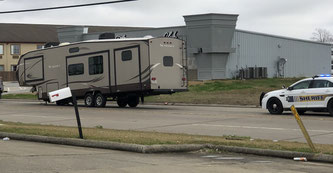 Lake Charles –
Earlier today at approximately 10:00 a.m., Calcasieu Parish Sheriff's Office deputies were dispatched to a local motel on Highway 90 in Lake Charles in reference to a stabbing. 
During further investigation deputies discovered the victim had been stabbed by Richard M. Koch, 41, Groves, TX, who was a former acquaintance.  Detectives learned the suspect arrived at the motel at which time an argument ensued between him and the victim.  Koch first attempted to hit the victim with his truck and then proceeded to get out of his truck and swing at the victim with his fist.  The victim advised he turned around to leave and Koch stabbed him one time in the back. 
Koch, who fled the scene, proceeded to his residence and hooked up his camper trailer to his truck.  While Koch was driving on Highway 397 in Lake Charles the camper, which was improperly secured, separated from the truck.  Koch continued driving and left the camper in the roadway.  Several minutes later deputies happened upon the camper and it was towed due to it blocking the roadway.
A short time later Koch arrived at CPSO to inquire on the whereabouts of his camper, at which time he was arrested and booked into the Calcasieu Correctional Center and charged with aggravated battery; and aggravated assault.  His bond is still pending. 
The victim was transported to a local hospital with non-life threatening injuries.
CPSO Detective Travis Mier is the lead investigator on this case.