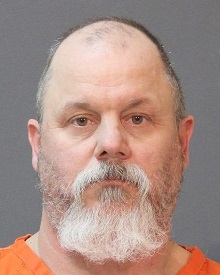 Lake Charles –
On January 15 deputies with the CPSO Sex Offender Unit received information regarding convicted sex offender Dana M. Pratt, 51, Lumberton, TX, working at a local plant without notifying the proper authorities of his employment, as required by law for all registered sex offenders.  Deputies were able to confirm that Pratt had been employed with the company since July 2017.  It was learned Pratt did notify the authorities in Texas, where he is currently registered, of his employment in Louisiana, but did not notify local authorities here in Calcasieu Parish. 
After further investigation on January 16 Judge Guy Bradberry signed a warrant in the amount of $25,000 for Pratt's arrest.  He was located on January 20 at his place of employment and was arrested and booked into the Calcasieu Correctional Center and charged with failure to register as a sex offender.  He was released on bond later the same day.
Pratt was convicted of criminal sexual conduct 3rd degree in Michigan in 1995.
CPSO Detective Allison Toups is the lead investigator on this case.