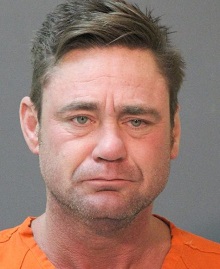 Lake Charles –
On January 5 at approximately 5:00 a.m. Calcasieu Parish Sheriff's Office deputies responded to a nightclub located on South Cities Service Highway in Sulphur in reference to a shooting.  During the investigation witnesses advised detectives the suspect was inside the nightclub at which time he got into a verbal argument with another person inside.  Detectives learned the suspect then exited the nightclub and got into his truck and circled the parking lot.  The suspect then began shooting from his truck toward the nightclub, hitting the building and a parked vehicle. 
On January 6 at approximately 7:00 p.m., after the release of the still image of the suspect to the media and the public, Terrell G. Istre, Jr., 42, 808 Sugar Maple Lane, Sulphur, turned himself in to CPSO detectives.  He was arrested and booked into the Calcasieu Correctional Center and charged with aggravated assault with a firearm; and aggravated criminal property damage.  Judge Ron Ware set his bond at $10,000. 
This case is still under investigation.  CPSO Detective Randall Ravia is the lead investigator on this case.