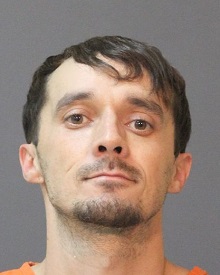 Lake Charles, LA –
On November 29 at approximately 8:00 a.m. the Calcasieu Parish Sheriff's Office received a complaint from a local high school in reference to a theft.  Upon arrival deputies viewed video surveillance footage from the previous night which showed a man entering the school around 10:00 p.m. through an unlocked window and stealing numerous pieces of computer equipment, totaling approximately $5,000. 
Later the same day with the assistance of the DeQuincy Police Department the suspect, who was identified as Michael S. Burgess, 32, 117 Brantley Street, DeQuincy, was located.  When detectives spoke with Burgess he admitted to the burglary.  Burgess was arrested and booked into the Calcasieu Correctional Center and charged with theft $5,000 to $25,000; and simple burglary.  Judge Robert Wyatt set his bond at $15,000.
Detectives were able to recover most of the property and it was returned to the school. 
CPSO Detectives Ross Vartuli and John Coffman are the lead investigators on this case.